As the saying goes, "clothes make the person." Costumes and makeup are important elements of mise-en-scène. Costumes, along with the setting, define the time period of a film whether in the recent past, such as the mid-twentieth-century, or in the distant future, such as the twenty-fourth century. 
     Costumes could endow a film with some verisimilitude. Costumes can also counter audiences' expectations. Antiquated elements such as wigs and corsets could denote wealth and/or social restrictions. Costume designers collaborate with directors of photography to ensure a unified presentation of colors and styles. 
     Here are some iconic and highly functional costumes for Wakanda warriors Nakia (Lupita Nyong'o) and Shuri (Letitia Wright) in Black Panther, directed by Ryan Coogler in 2018.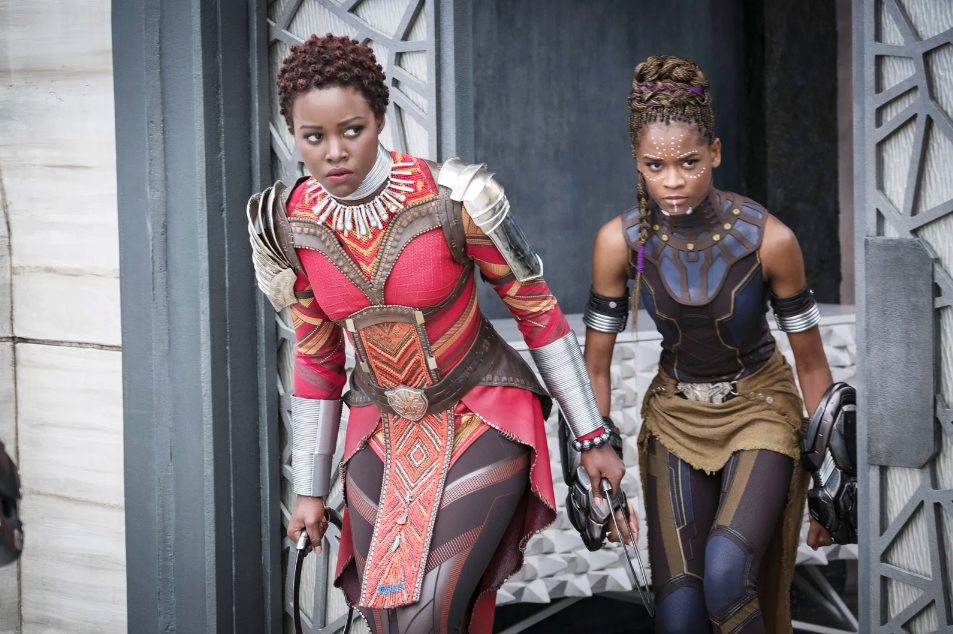 Renowned costume designer Julie Taymor, who is also a stage and film director, incorporates elements from world cultures, such as puppets and masks, into her designs. She would draw inspiration from a single phrase associated with a character, or a "single ideograph."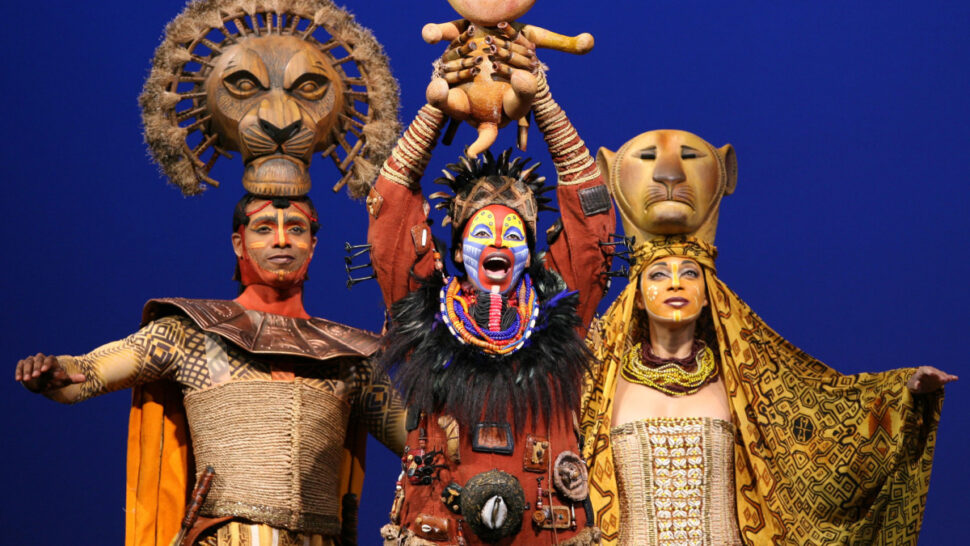 Here is a short video of Taymor who is discussing her principles of costume design for The Lion King.
     Taymor was the first woman to win the Tony Award in 1998 for her Lion King (see above). Her work was recognized with a Tony Award for directing and a second Tony Award for best costume design. Here is a Time article on her creative process for The Lion King.
     Her film, The Tempest (2010), features Djimon Hounsou as Caliban. His oppressed status is symbolized by the curse words, such as "mooncalf" (a foolish person), that appear as raised scars on his skin. His body is covered in lava, earth, bark, and bits of the island. He embodies the island. Costumes and makeup here give meanings to Caliban's struggle against colonization.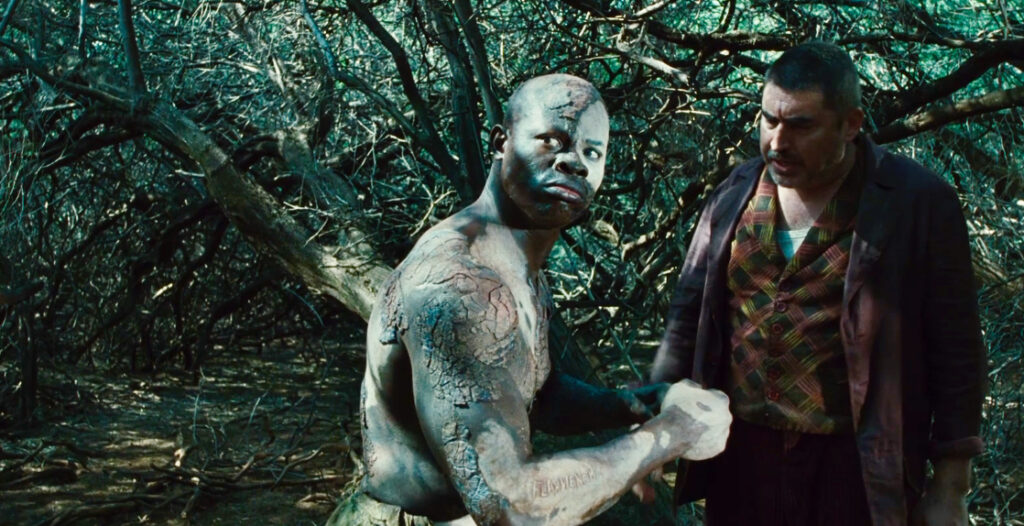 In some films, different costumes for the same character in different scenes could transform the character from a benevolent to a sinister individual, revealing the two sides of, or the truth about, them. 
     For example, the conceit in Duncan Jones' Moon (2009) is the idea that there is a series of clones of astronaut Sam Bell (played by Sam Rockwell) working on a lunar mining base. All of them insist that they are the "original" and not the clones.

     The same actor plays all of these characters. In the side-by-side photos above, they appear to be different persons by virtue of their contrasting costumes, grooming habits, and how the characters wear their hair. 
     In other films, costumes could be prosthetic, a device to augment an impaired body part or to enhance the individual's ability. Robert Downey Jr.'s character Iron Man is a prominent example.
    The trilogy includes the 2008 and 2010 films directed by Jon Favreau and the 2013 film directed by Shane Black. In these cases, costumes are a key character and become part of the lead character's presence as well; Iron Man, a "genius" inventor, is often seen in these films in his motorized body-armor suit.  
     Costumes are not always fashion statements in films. Costumes respond to the setting, shape our perception of the fictional universe, and define the characters. 
     Your Turn:     Analyze this scene where film viewers meet Caliban for the first time in Julie Taymor's The Tempest (2010). This video, on Touchstone Pictures' official channel, depicts the magician Prospera (played by Helen Mirren) confronting Caliban. Pay attention to the costume choices for Prospera, her daughter Miranda, and their "slave" Caliban.
     Your Turn Again:          Here is another exercise on costume analysis. In William Shakespeare's Romeo + Juliet, Baz Luhrmann took a purposefully excessive approach to portray the excess of emotions. Kym Barrett's costume design sets the two households apart through their respective ethnic and religious markings and symbols. The parents in the Montague and Capulet clans are dressed similarly (except for the ball scene), but their proxies and heirs are distinguished by their unique outfits and accessories.
     How might you characterize the costume choices in the following scenes? Consider the costume design, soundtrack, and camerawork.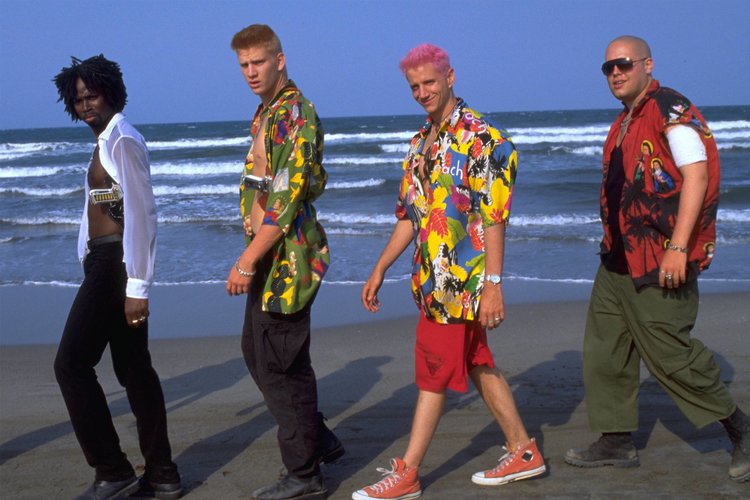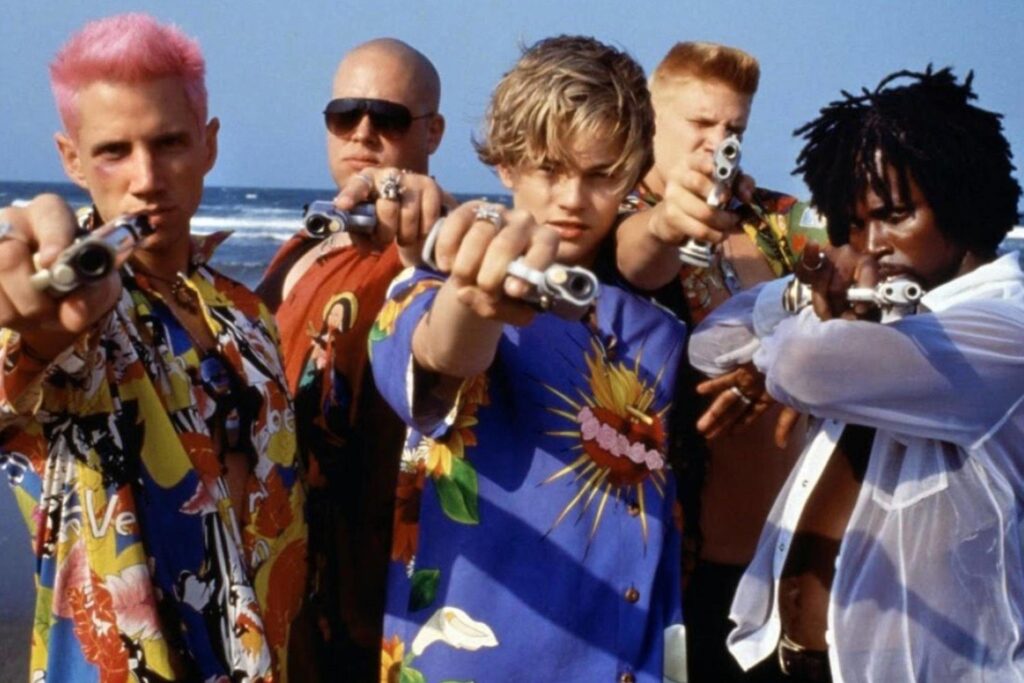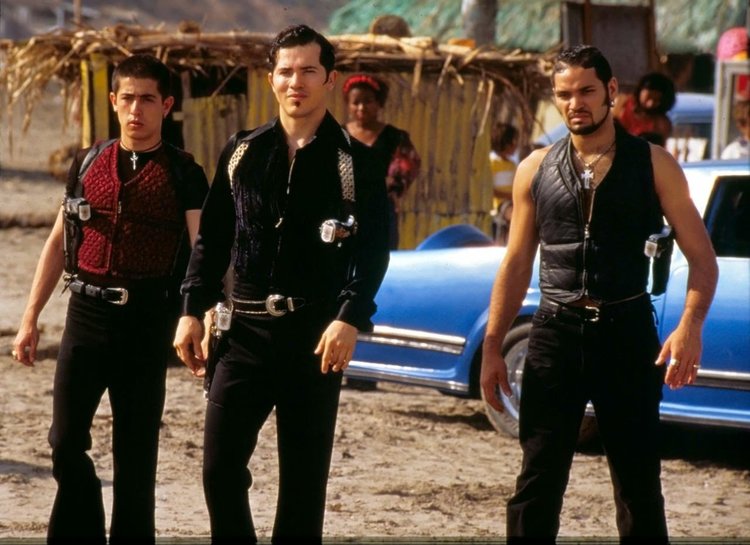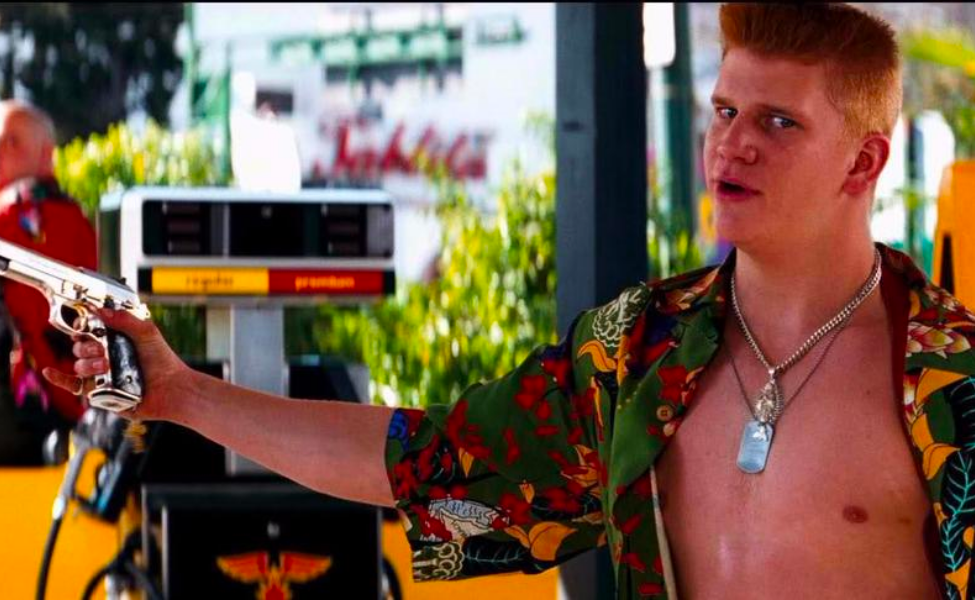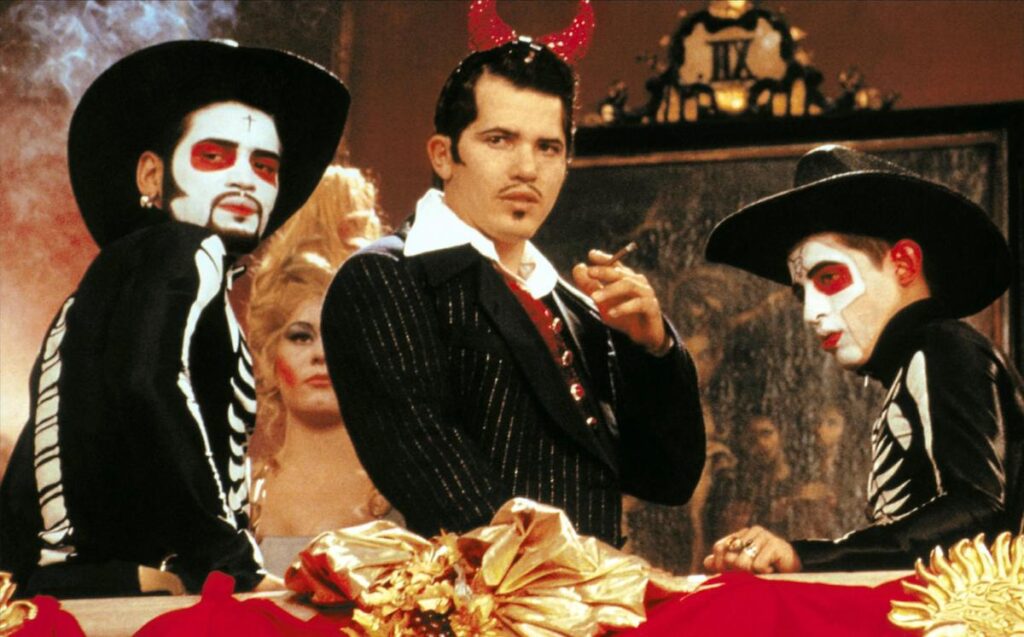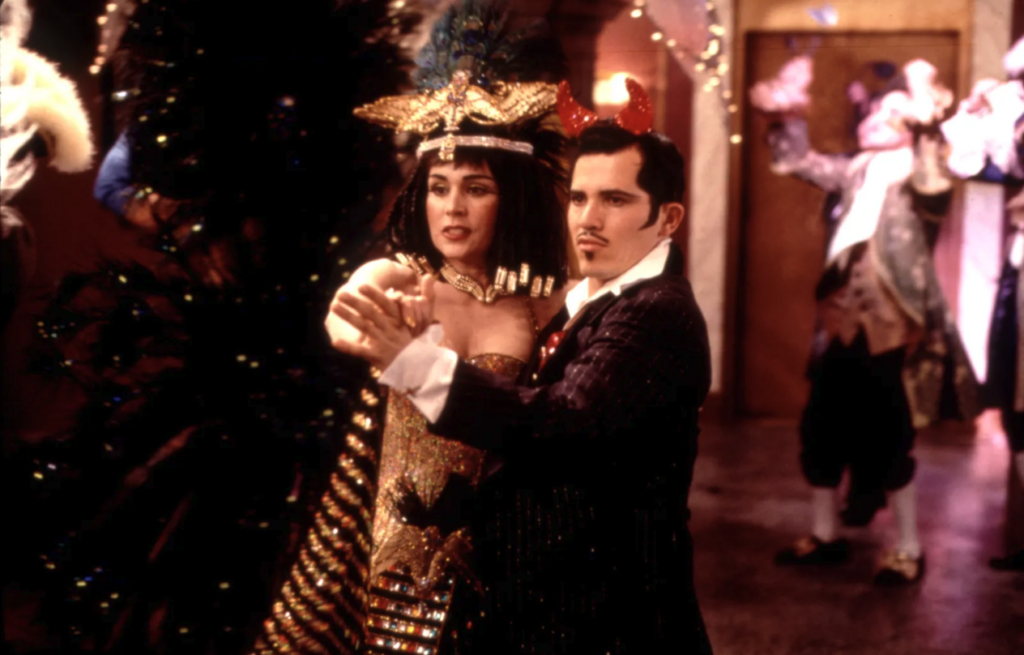 Answer Key:    While both gangs seem equally capricious, their clothing styles are very different. The Capulets tend to be clean shaven (hair brushed back) and go for a decorative look. They live in a big mansion with staff who are mostly white (other than Juliet's Latina Nurse played by Miriam Margolyes). The Montagues seem more carefree; they wear utilitarian clothing that is in tune with the warm climate. The Montagues' natural habitat is the beach where they are seen as a nuisance. 
     While sartorial choices are not necessarily racialized, the film uses accents and casting choices to ethnicize the Capulets. For example
Fulgencio Capulet is played by Italian-American actor Paul Sorvino
Tybalt (Juliet's short-tempered first cousin) is played by Puerto Rican actor John Leguizamo
Abra is played by Panamanian-Italian actor Vincent Laresca (who says "do you bite your thumb at us" in the gas station brawl); in this film Abra is cast as a Capulet rather than a Montague as in the play where he is called Abraham.
Petruchio Capulet (a friend of Tybalt) is played by Mexican actor Carlos Martin Manzo Otálora
     Costumes work in tandem with other symbols to suggest the Capulets' ethno-religious identity. Juliet Capulet's home is filled with Catholic imagery, complete with a home altar.
     These colorful characters both play themselves and foreshadow their futures at the masked ball, where their choices of costumes reflect their motives and trajectories. Romeo is a wide-eyed knight in shining armor who meets the love of his life. Juliet is clad in white with angelic wings which represent her religious devotion, innocence, and purity.
     All of the characters at the ball are time travelers who clash with inhospitable times, in the sense that their costumes reference the antiquity (Cleopatra), Middle Ages (a knight in shining armor), or the future (Paris as an astronaut).