Mise-en-scène (mee-zan-SEN), a French term, refers to the arrangement of actors and scenery on stage. In film studies, mise-en-scène encompasses everything visible on screen: lighting, framing, composition of the shot, blocking, costumes, sets, and props.
     Mise-en-scène can build, only to contradict, audience expectations. Some films do this in order to frame their narratives that counter prevailing artistic and ideological norms.
    Known for his sophisticated application of saturated and expressive colors, American director Wes Anderson is very deliberate and direct with his mise-en-scène, such as his 2014 Grand Budapest Hotel.
     Beyond its color symbolism, his mise-en-scène is also characterized by symmetry and copious profile shots. The symmetry in each frame is enhanced by actors and props promptly entering and exiting the frame on cue. This contributes to Anderson's eccentric, visual story-telling, as evidenced by Moonrise Kingdom (see the Universal Pictures' trailer).
     When brought together, these elements of mise-en-scène endow the story with cultural and dramaturgical meanings. A film's setting—whether in exterior locations or in soundproofed "soundstages"—reveals both the background of the story and the characters' personalities.
     Filmmaking, like theatre, is highly collaborative. At the center of mise-en-scène is the production designer who visualizes the setting of a film (its time period), moods, characters' social background, and the kind of space the characters would occupy. Many designers have gone on to become film directors, such as Ridley Scott, Alfred Hitchcock, and Julie Taymor.
     According to the Oxford Dictionary of Film Studies (2012), mise-en-scène produces meaning for a film by "providing visual information about the world of a film's narrative." Mise-en-scène can also provide "ironic commentary on the characters and the worlds they inhabit."
     In summary, what you see may not always be what you "get." Take everything with a grain of salt.
     In the following example, from Peter Farrelly's Green Book (2018), the Black pianist Dr. Don Shirley (played by Mahershala Ali) is clad in an opulent, gold and white robe and sits on a chair with a tall back that looks like a throne. He meets a white working-class man named Tony Lip (played by Viggo Mortensen) who is being interviewed for the job of Dr. Shirley's chauffeur.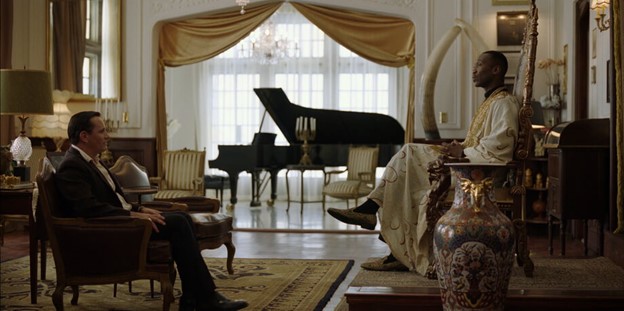 Through its mise-en-scène of thematic and visual contrasts, this film depicts the complex friendship between the working-class Italian-American driver and the well-heeled African-American classical pianist on a tour through the American South in the 1960s.
     In particular, in this interview scene, the two characters of different racial backgrounds and social class sit face to face, with Tony on the left and Don on the right. We can read such mise-en-scène through the height differentials between the positions of the two characters, as well, attending to how power dynamics are quietly conveyed and slowly unfold as the narrative progresses. 
     Your Turn: Watch this clip of the interview scene. Use the concept of mise-en-scène to analyze how race and class are depicted and critiqued.
     Answer Key provided and discussed in class.